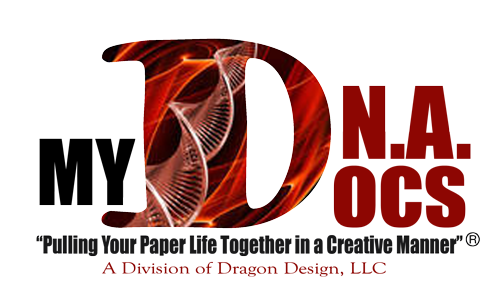 Navigation:
Are You Really Organized and Prepared for a Life Altering or Unexpected Event?
Would You Like to Simplify Your Paper Life?
Would You Like to Prevent Chaos in the Event of an Emergency?
Dragon Design, LLC prides themselves on "Pulling Your Home and Move Together in a Creative Manner". As we have been working with clients and moving them, we can't tell you how many times we've come across passports in dresser drawers, Social Security Cards in night tables and personal items scattered all over the house. You really do not want to have the movers moving your personal documents in file cabinet and drawers. These days, it's just too easy to have your identity stolen or compromised.
As Baby Boomers are caring for their aging parents and Generation X's for their Boomer parents, it has become all too apparent that even though we would like to THINK we have all our paper affairs in order, we DO NOT or could be MORE ORGANIZED!
Dragon Design, LLC will now also "Pull Your Paper Life Together in a Creative Manner". After attending a Session at our 2010 NASMM Convention, in Las Vegas, our team opted to design a workshop program tailored to also organizing your paper life. The My D.N.A. Doc Workshop was born.
Dragon Design, LLC is the FIRST COMPANY in the Philadelphia to offer Design, Home Staging, Move Management and Paper Life Organization ALL Within the Same Company
My D.N.A Docs stands for Documents Need After:
An Accident
A Medical Emergency
An Operation
Any Life Changing Event
An Immediate Family Member's Death
Is My Paper Life Really Organized?
What if you had to vacate your home because of disaster and had only a few minutes to gather everything you need to identify you, (important papers, family history & treasured pictures) how long would it take you?
If there was a death in the family (sudden or because of an illness) and as a family there were decisions that needed to made as a result, would you know where to start, who to contact?
Participation in a My D.N.A. Docs Workshop will enable you to organize all your important records and documents for daily use and future planning. You will eliminate time and frustration when locating vital document in the event of an emergency.
Our streamlined process will prepare for any emergency! By the end of our workshop you will leave with a completed binder, along with a portable file that holds your bulky policies and original documents. You will always be ready for any emergency!
How is This Daunting Task Accomplished?
DNA Docs, LLC has taken all the guess work out of this process and created an easy to follow workshop that is lead by Dragon Design, LLC staff members who oversee the complete process from start to finish. You will have homework assignments in between each session so each week you are ready to complete the next section of the binder during the workshop.
There is a flat fee to attend the workshop plus the materials needed to compile the binder and tote. If you would like to be contacted about attending a seminar to better understand the details of the workshop, please contact us.
My D.N.A. Doc, is a division of Dragon Design, LLC. Dragon Design, LLC is a full service Interior Design, Home Staging and Move Management Company.
For more information or to register for one of our workshops, Contact Us:
Call: (610) 299-1328
E-mail: info@mydnadocs.com